Self Contained Chemical Oxygen Self Rescuer Coal Industry
Product information
Chemical oxygen self-rescuer is the lifesaving device for the people in the coal mine.When a downhole disaster (mine gas explosion, gas outburst, fire, etc.) causes poisonous and harmful gas pollution and hypoxia, Chemical oxygen self-rescuer can be provided to the people with fresh breathing gas.For the individual to escape from the disaster area and use of the respiratory protective equipment, can be free from the poisonous gas or suffocation hazards, safely exit the disaster area.It can also be used for underground works, high-rise buildings, entertainment sites, fire self-rescue, tunnel, chemical, sanitation engineering, and places where toxic gases may be present or where people can suffocate.Self Contained Chemical Oxygen Self Rescuer Coal Industry
It is used for coal and gas outburst mine roadway area and the stoping face that has occurred or predicted coal and gas outburst, as well as the affected roadway area.At the same time, it can be used as the emergency for underground personnel when they encounter such disasters as CO2 outburst and gas and coal dust explosion or spontaneous combustion.When the coal mine roof caving, researchers stuck in a cul DE sac, continuing to protective gas seepage and oxygen content is reduced, the mishap can wear the chemical oxygen self-rescuer sit-ins to save. Coal Industry Oxygen Self RescuerRescue team in the mine rescue, such as oxygen respirator malfunctions, it can be used as auxiliary apparatus.It can be worn as a personal protection in underground works, various tunnels, underground gas pipelines, CO2 and methane accumulation areas, and hypoxic areas.Chemical and oil refinery plant can be widely used when gas leakage and equipment repair.Various types of chemical oxygen self-rescuer working principle and function are basically the same, just protection duration is different, should be based on the distance and time of the escape to choose different types of chemical oxygen self-rescuer.
Dongda Group has 10 series, more than 70 products. Including mines lifting equipment, transport equipment, communication signal equipment, personal-protective equipment, ventilation equipment, mining cleaning equipment, supporting equipment, drilling machines and accessories, mining pump, electrical equipment, lighting equipment ,rock drilling equipment and other products.coal feeder ,air cannon ,gas detector,
Now ,hundreds kinds of products have been exported to more than 60 Countries and regions. Such as USA, Australia, Russia, Canada, Middle East, Africa etc
Dongda Group has succeeded in passing a number of certification systems which are ISO9001, 2008 quality management system certification, CE certification ,Alibaba GIS certification, SGS certification (made in China) . With excellent quality and competitive price , Dongda group is to establish long-term, broader economic and trade cooperation and strategic partnership with a number of large state-owned enterprises and customers, and won the unanimous approval of them.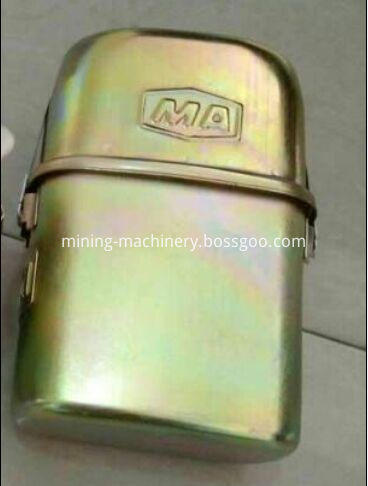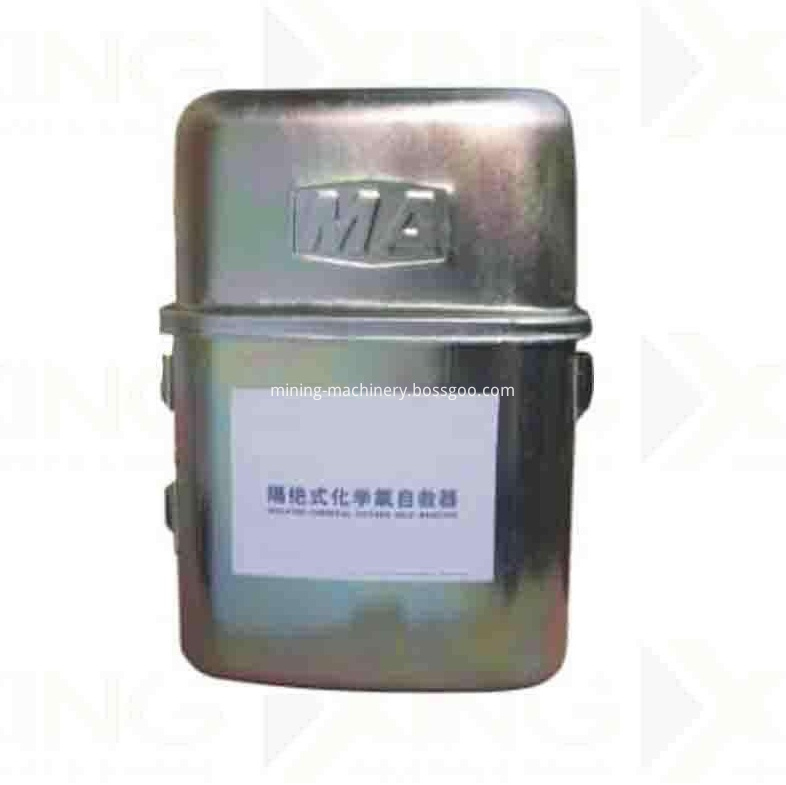 Feature
1, structure,
It is composed of oxygen tank, air bag, airway, mouth, belt and so on.
The oxygen tank contains 500g of sodium superoxide and has a heat sink to emit heat during the reaction.There is a mesh of wire mesh and glass wool on the top and bottom of the potion to filter the agent dust in the mesh.The safe use time of the self-rescuer is 40 minutes, and the sitting state can be maintained for 2.5 ~ 3 hours.In the upper part of the oxygen tank, connect the air bag and the guide pipe.The exhaust valve is installed in the cooling box of the airway, and the expansion joint is inserted in the center of the air bag, but it is not connected to the inside of the air bag and directly leads to the outside air.Exhaust valve with nylon rope connected to gasbag hard wall, starting device by medicine barrels, starting blocks, sulfuric acid, gasket and bottle of nylon rope, nylon rope through the gasket, attached to the shell of the cover.
2. Method of use
When the balloon filled with gas, pull open exhaust valve, flush out of breath, to ensure the airbag work under constant pressure, and reduce carbon dioxide and water into oxygen tank, which regulates oxygen rate, prolonged use.When wearing feel lack of oxygen, can use quick starter, nylon rope, sulfuric acid and the starting medicine block up the chemical reaction and oxygen, immediately to make up for the started wearing masks birth hypoxia state.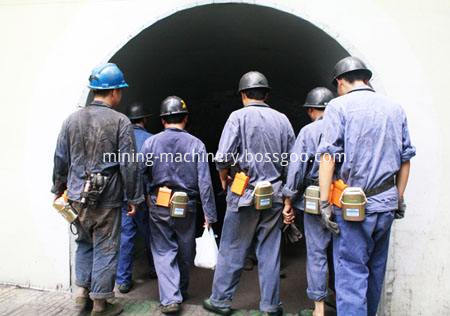 Technical parameter
Item

ZH30

ZH45

ZH60

other models available; ZYX-30,ZYX-45,ZYX60,ZL60 etc.

Protection time

>30min

>45min

>60min

Suction pressure

≤1200Pa

≤1200Pa

≤1200Pa

Temperature

Dimension

140×90×175mm

100×93×133mm

100×93×133mm

Weight

1.5kg

2kg

2.1kg

Valid

Storage

5years

carry

3years